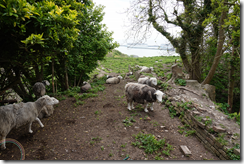 Dover, Oxford & Royal Leamington Spa
Hi Everyone!
This week I won't be sharing any new patterns since I am away on holiday in the UK! I am still working on some projects though so stay tuned! So far I have been to Dover, Oxford and Royal Leamington Spa.
This trip started off with a 9 hour flight across the Atlantic Ocean that had a few spots of turbulence. I landed in the morning so we had plenty of time to get to our first stop in Dover. Once we arrived we explored the harbour outside our hotel and watched the ships move across the English Channel. The next day we took a hike on the White Cliffs of Dover and saw some ponies, and different types of birds.
My first stop was in Dover and we visited the White Cliffs of Dover and Dover Castle. The cliffs were definitely amazing since it like standing right above the English Channel. There used to be stairs that would allow you to climb down the cliffs, but that area has since crumbled so it was too dangerous to walk down to the bottom. We were still able to see where the water meets land and it was quite high.
Here are some pictures of the White Cliffs of Dover from different locations along the cliffs:
Our second stop in Dover was to Dover Castle. This castle was built in the 11th century and is one of the many castles that are all around England. This castle played key roles in the history of England and has been preserved really well. Since it was used in the medieval times and during the World Wars there are many different buildings on the castle grounds.
Here are the pictures of Dover Castle:
The second place we went to was Oxford. Unfortunately, we did not take any pictures there, but the many different historical buildings that we saw were quite impressive.
The third place we went to was Royal Leamington Spa, which had a beautiful park in the middle of the town centre called Jephson Gardens. There are many different plants species there  and they even have a glasshouse that had different types of tropical plants in it. There is also a Roman Bath Pump there that the was built in the 18th century to be used as a spa bath.
Here are the pictures of Leamington Spa:
That is my trip so far! Here is a knitted infinity scarf that I am currently working on during the trip. I will have the pattern up soon!
Thank you for visiting my blog!
Cheers,
Jessica