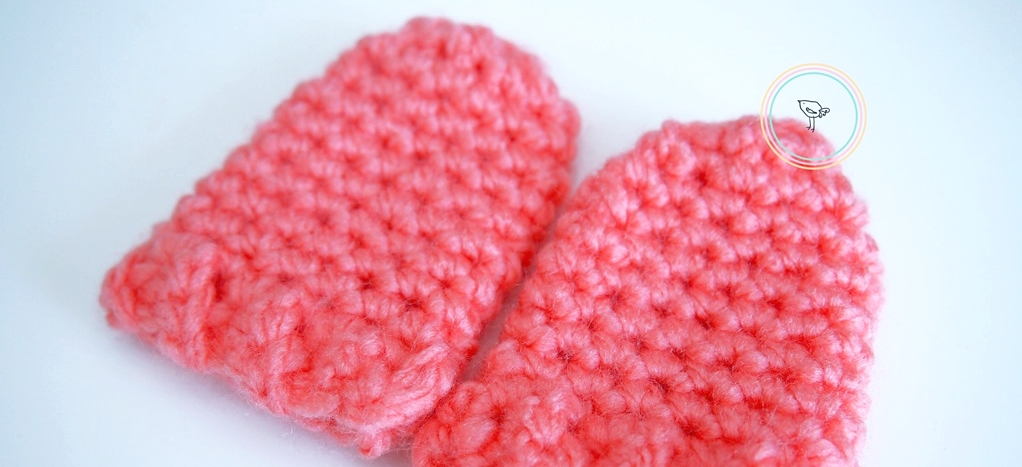 Crochet Newborn Baby Mittens Pattern
Hello Everyone!
This week's blog post will feature a crochet pattern for baby mittens that I made using Loops and Thread's Charisma Baby yarn in Coral. They had the yarn for sale at Michael's so I decided to get some in different shades of pink and variegatedyarn. I am also working on a baby diaper cover that I will post about in a later post. Since the yarn is thick and the mittens are only for a newborn, this project worked up really quick! Let's get started!
Hole Puncher for Scale
Materials
Aran / 10 ply (8 wpi) (4 – Medium) Yarn
5.5 mm (I) Hook
Scissors
Tapestry Needle
Stitch Marker (Optional)
Pattern
Starting with the ribbing CH 3.
Row 1: SC into 2nd CH from Hook and till end. Turn. (2)
Row 2 – 13: CH 1. SC into BKLO till end. Turn. (2)
Row 14: CH 1. SC into BKLO till end. SLST into CH ST to for the ribbing band of the mitten. Do not finish off. (2)
Mitten
Round 1: CH 1. SC into same ST. SC around. (14)
Round 2 – 7: SC around (14)
Round 8: SCTOG. SC into next 5 STs. SCTOG. SC into next 5 STs. (12)
Round 9: SC around (12)
Round 10: SCTOG around. (6)
FO. Leave a tail to close up the top of the mitten. Flip the mitten around to sew weave in ends.
That's it! The bright colour of the yarn is perfect for baby mittens and I really like how soft the yarn is so it was easy to work with. Unfortunately, I think this particular yarn has been discontinued, but there are many different baby soft yarns that are available to make these mittens with!
Ravelry Pattern Page:
Thanks for stopping by my blog!
If you have any questions please feel free to leave a comment below or email me at jesscrafting@gmail.com
Take Care,
Jessica