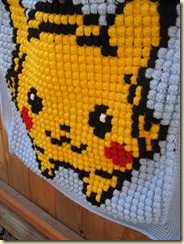 Pikachu Bobble Stitch Pixel Blanket
Hi everyone!
I am back to talk about the Pikachu Bobble Stitch Pixel Blanket I started a long while back. As you know I started this months ago and finally finished a couple of weeks ago after I got back from my trip to the UK. I will be writing about my trip in a later post 🙂 I loved it there!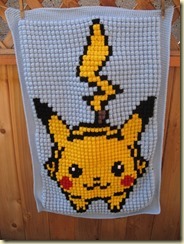 Anyways, back to the blanket. I got the idea from Sarah's Repeat Crafter Me Blog and the Pikachu graph from here. She has so many other blanket ideas for graphs! I want to try a corner to corner blanket next. It took a long time, but I love how it turned out. I could have definitely finished it faster if I didn't keep starting different projects. I also think it took me so long cause the beginning of this Pikachu had lots of colour changes in each row so I felt like it was taking forever! I eventually finished after about 2 months of working on it.
Materials
5.5 mm (I) Hook
Light Blue (Red Heart Super Saver)
Yellow (Phentex Yarn)
Red (Red Heart Super Saver)
Black (Red Heart Super Saver)
White (Red Heart Super Saver)
Light Brown
Scissors
Tapestry Needle
Note: I highly recommend printing out the graph onto paper so you can cross out the bobbles you have done so you don't lose your place.
Once the graph was completed I decided to do the same Single Crochet (SC) border around the entire blanket as Sarah. I was going to try different borders, but the SC one looked the best since it contrasts the bobble stitches. I made sure to do 3 SCs at each corner so that it turned out fairly rectangular. I also brought the yarn along instead of cutting the yarn when I had to change colours in some parts of the blanket. You can see that showing up in the middle picture of the back of the blanket. I will probably weave in some yarn to hide that better or just sew a piece of fabric on the back to cover it up 😛
That's it! I definitely recommend giving it a try! It was hard starting it, but the results are so cool! If you have any questions, please feel free to leave me a message or send me an email at jesscrafting[at]gmail.com and I will be happy to help! 🙂
Thanks for stopping by my blog!
Cheers,
Jessica