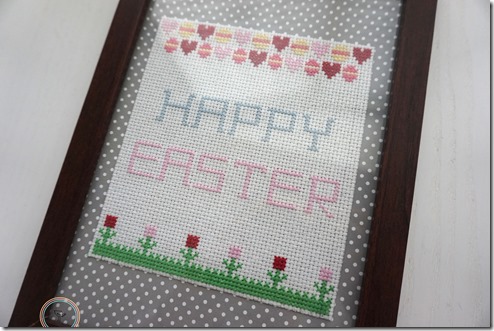 Happy Easter Cross Stitch Pattern (Free)
Hi Everyone!
As you know I have learning to cross stitch recently and wanted to give making patterns a try. I found this website called Stitch Fiddle that allows you to create your own patterns and share them with others. It is mostly free, but if you want to have a little more options you can pay a small yearly fee for it. You can also create crochet and knitting patterns on it so I thought it was a great idea! For my second pattern I made an Easter themed cross stitch pattern. It is pretty simple since I am just starting out, but I think it is a nice springy little pattern for beginners. You can find the pattern here.
Here is the completed pattern framed:
I added the hearts, eggs, and flowers to add some spring touches and used pale colours to soften the piece. This was my first framed cross stitch pattern so feel free to give me any pointers and enjoy stitching away.
Happy Easter and thank you for stopping by my blog!
If you have any questions, feel free to leave me a comment below or email me at jesscrafting[at]gmail.com
Take care,
Jessica