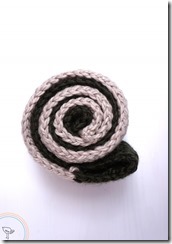 Hi Everyone!
In one of my previous posts, I said I was away visiting the UK, but that hasn't stopped me from working on some crafting projects. I have completed an infinity scarf and a two toned scarf. Both are simple knitting patterns that I will sharing on the blog. I also want to make a midwife blanket that I always see people making. In this post, I wanted to share with you some pictures of the scarves.
Here is the completed infinity scarf I made using Loops and Threads Cozy Wool in Velvet:
Here is the two toned scarf I made using Loops and Threads Cozy Wool in Mushroom and Moss Green:
I had a lot of fun knitting these scarves since they were so quick to knit up and the colours look so pretty. I really like the brightness of the velvet yarn and the contrasting mushroom and moss green yarn. The scarves are really soft and the contrasting colours look better than I thought they would.
I will be posting the patterns for these scarves in the next couple of blog posts so look out for those!
Thanks for stopping by my blog!
If you have any questions please feel free and leave a comment below or email me at jesscrafting@gmail.com
Cheers,
Jessica