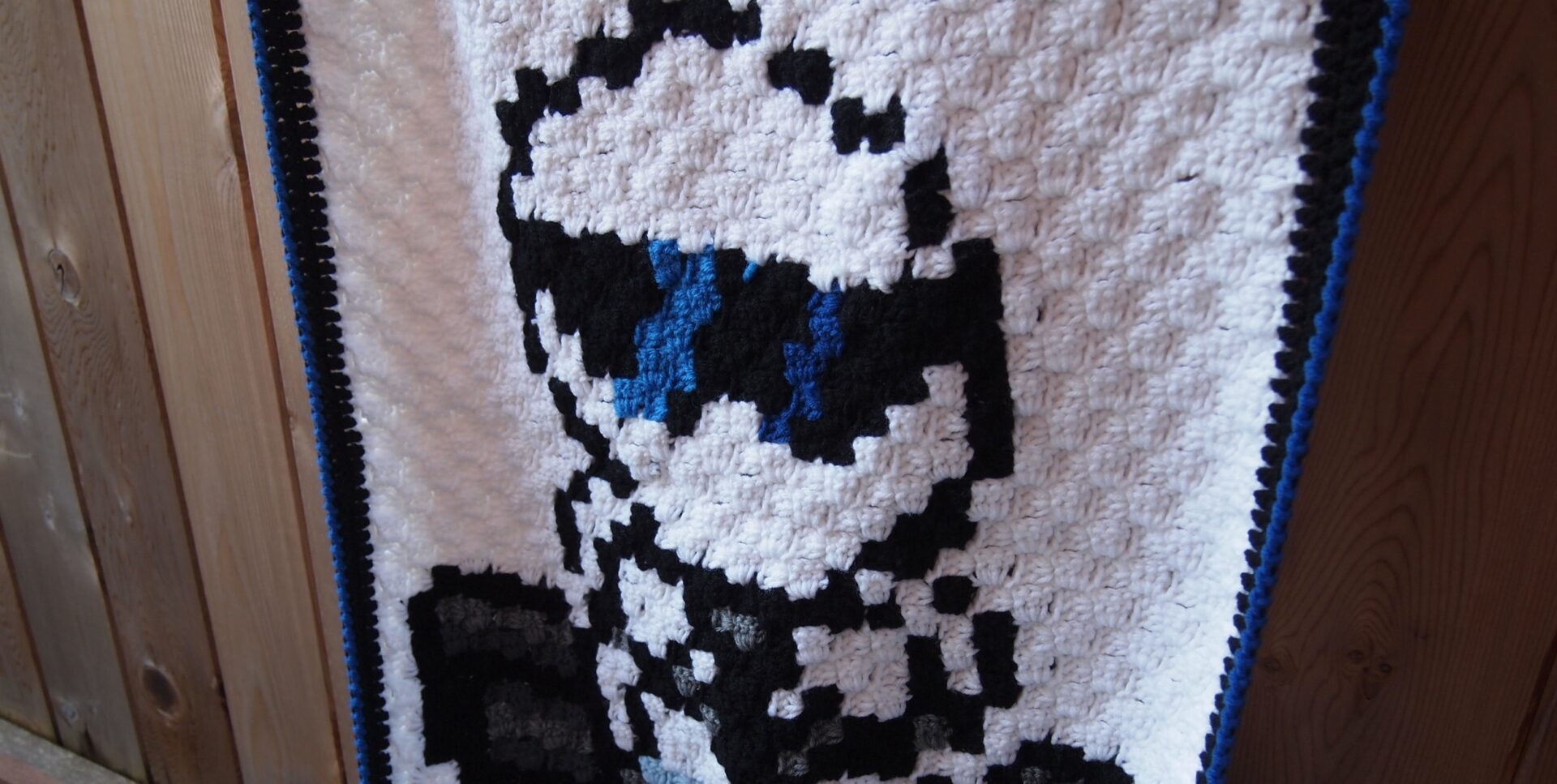 Corner to Corner (C2C)–Top Gear Blanket
Hi Everyone!
I am finally posting my Corner to Corner (C2C) blanket that I completed a while back. I really enjoyed this project that Sarah from Repeat Crafter Me made me interested in. I also used the instructions from The Crochet Crowd's website. I wanted to make The Stig from the car show Top Gear with some words on top so I used this perler bead pattern and made up the lettering sections of the blanket. I couldn't find any graph paper when I was making this so I used lined paper and made my own graph paper! I think I was prouder of that than the blanket itself! I also didn't realize I was supposed to use the half double crochet stitch instead of the double crochet stitch for this blanket. Next time I will remember that.
Here is the graph paper for The Stig portion of the blanket:
Materials
5.00 mm (H) Hook
Worsted Weight Yarn
Scissors
Tapestry Needle
The Stig portion of the blanket was 37 squares by 30 squares. I added an extra square on each side of The Stig to add a bit of a border for the picture to come through. I am not sure if you can see underneath the crosses, but I used different letters for the different colours I would need to be using for each square. I also drew arrows in the direction I would need to be going for each diagonal row. I found that this was useful for when I took a break from the project. I got this idea from watching Sarah's Corner to Corner video tutorial.
For the words, I drew on a piece of graph paper (I finally got some from a friend) that was the same width as the Stig portion of the blanket. So it was 30 squares across. Once again, I left an one square space border.
Once I finished all three portions of the blanket I added a double crochet border for each piece like Sarah did for her Christmas C2C blanket. After that was completed, I sewed the pieces together like I did for the Granny Square Baby Blanket with Flowered Edge. To finish off the blanket, I used the same stitch that Sarah used for her blanket and did the crab stitch. Weaving in the ends was taking so long that I may have cheated and cut some ends that were kind of crocheted over as I was making the blanket.
Finally done! I really enjoyed making this blanket even that it seemed like a lot of work, I finished it pretty quickly since it was fun to make.
I want to make a few more of these blankets soon, but use the half double crochet stitch and see if it turns out better. Good luck if you are going to make one and have fun!
Thanks for stopping by my blog!
If you have any questions or comments please leave me a message below or email me at jesscrafting@gmail.com
Take Care,
Jessica