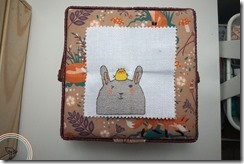 My First Cross Stitch Project
Hi Everyone!
It is always fun to try out a new craft and find out you really enjoy it! Today I want to share with you my very first cross stitch project. I had gotten some cross stitch kits before, but always thought it would be really hard to do. Then I saw some other mini cross stitch kits on my trip to the UK at their Hobby Craft store and decided to finally give it a try. This little kit is small so it will be finished quickly and if you are just starting out, it won't scare you away. Cross stitching is really relaxing and something I want to do when I am not crocheting or knitting.
Here are the project pictures:
The instructions for this project are pretty clear, but I did look up some beginner videos on the basics of cross stitch while I was starting the project. I also think that I have a lot to learn and am really excited to try something a little harder and maybe a little bigger for my next project.
Thank you for stopping by my blog!
If you have any questions, feel free to leave a comment below or email me at jesscrafting[at]gmail.com
Take care,
Jessica