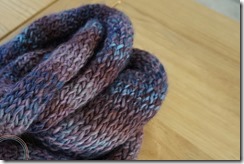 Two Skein Knitted Infinity Scarf Pattern
Hi Everyone!
Happy New Year! It is the beginning of the year and it is still quite cold so this two skein knitted infinity scarf will help with the chill in the air. I used some really soft Loops and Threads Facets yarn for this project and completed it with just two skeins of it, including sewing the edges together.
Here is the pattern:
Materials
10.0 mm (US 15) Knitting Needles
Two Skeins of Super Bulky Yarn (110 Metres/120 Yards each)
Tapestry Needle
Scissors
Pattern
CO 30 STs.
Row 1: Knit till end of row (30)
Row 2: Purl till end of row (30)
Repeat Row 1 and Row 2 until you have used up most of the yarn.
Cast off, leaving a long tail to sew the ends together.
To sew the ends of the scarf together, you can use the mattress stitch or any other type of sewing methods that you prefer.
Complete! As you can see, this pattern is very simple and just uses the basics of knitting to complete.
Thanks for stopping by my blog! If you have any questions, feel free to leave a comment below or email me at jesscrafting@gmail.com
Take care,
Jessica