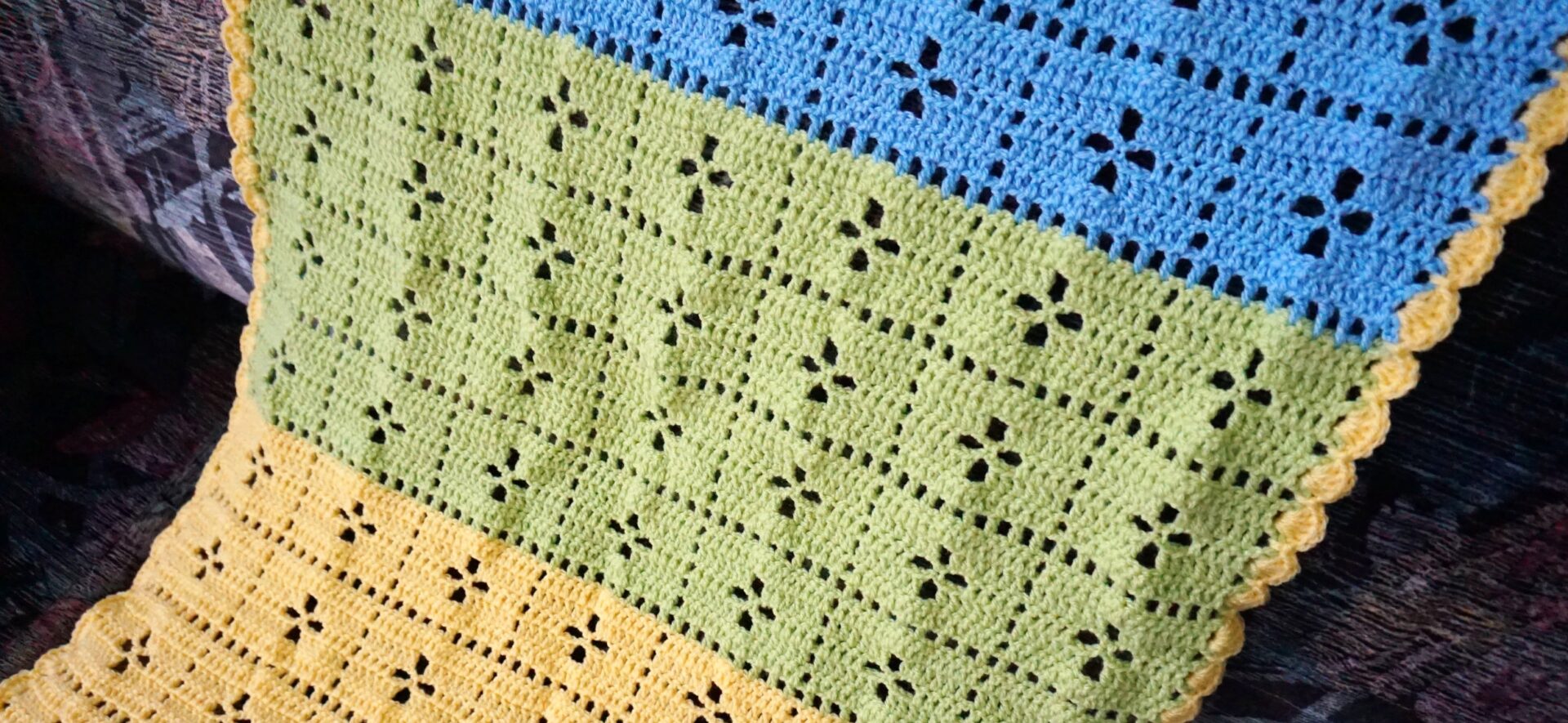 Crochet Call the Midwife Newborn Baby Blanket
Hi Everyone!
It seems like everyone I know is having a baby so this week I want to share with you the Call the Midwife Newborn Baby Blanket Pattern that was designed by Rebecca of Little Monkey's Crochet. Before I started this blanket I had never watched the TV show, but had always heard good things about it. I was definitely missing out because once I started watching it I couldn't stop! I completed the blanket while watching the show and noticed it in many of the episodes of the show. This pattern is easy to follow and you can make it as long or wide as you want. I followed the pattern size since I was making this for a newborn baby.
I used some DK yarn in three different colours, that I got in the UK at the Hobby Craft store which is kind of like the Michael's craft store over there. When I first started this blanket I thought I was doing it wrong since it didn't look like the picture, but once I completed the first set of rows it started looking better. I followed Rebecca's instructions to crochet into the chains instead of the chain spaces since I thought the stitches looked tighter that way, but that depends on how tightly you crochet and how you want the blanket to look in the end. I really enjoyed making this blanket because once you finish the first couple sets for rows you will have the pattern memorized and you can finish it quickly.
For the border of the blanket, I just did the scalloped edge pattern that I always use from Staci's Very Pink Knit Youtube Channel and it turned out really cute. You can also follow Rebecca's scalloped edge border pattern, but I used Staci's pattern because I have it pretty much memorized since I use it so much. I really like how this blanket turned out and might make another one soon in a different colour.
Here are some completed blanket pictures:
This blanket was really fun to make and Rebecca's instructions are clear and easy to follow so completing this newborn blanket was quick. This would be perfect for when you need to make a last minute present for a new baby.
Thank you for stopping by my blog!
If you have any questions please feel free to leave a comment below or email me at jesscrafting@gmail.com
Cheers,
Jessica