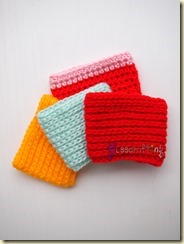 Crochet Bottle/Coffee Cup Cozy Patterns
Hi Everyone!
I recently made some coffee cup cozies to use up some yarn that I've had for awhile. I also wanted patterns that worked up quickly. I used Angela's and Jonna's patterns that can be found on their blogs for free. Yay! Angela's Blog is Colour and Cotton and Jonna's Blog is I'm Frayed Knot 🙂
Here are my results:
This was a very simple pattern, that can be made in all sorts of colours.
Jonna's pattern I have discussed before on an older blog post, but I wanted to try making it with different brands of yarn.
Here are my results:
Since these work up really quickly, you can make a lot in a short period of time. Perfect for last minute gifts!
Thanks for stopping by the blog! Enjoy these free patterns by Angela and Jonna!
If you have any questions please feel free to leave me a comment below or send me an email at jesscrafting[at]gmail.com
Take care,
Jessica