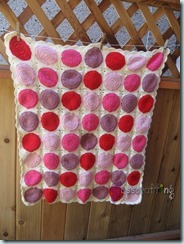 Finished Baby Retro Circle Squares Blanket
Hi everyone!
I finished the retro circle blanket a while back and I decided to make it into a baby blanket instead of a full sized one. It was just taking so long! Maybe one day I can complete a full sized blanket using squares. I found the pattern on Adele's Three Beans in a Pod Blog. I used Paton's Simple Soft yarn for my blanket, but I think anyone worsted weight yarn will do. I posted my finished product on my instagram many weeks ago, but did not show it in it's entirety, so here are the pictures of the finished product and some in progress pictures.
Lining up the squares, I made 48 squares in total.
Connecting the squares, I did it the hard way, but on Sarah's Repeat Crafter Me blog she shows a much simpler way of connecting the squares. I should have done more research before I started connecting my squares…There also many other ways of connecting squares that I found on Tamara's Moogly blog that look helpful!
Done connecting the squares! You can tell I did it the hard way by all the ends that I have to weave in! I wanted to do a shell/scalloped border so I looked up different ways to do it. The one I used is on Staci's Very Pink Knits youtube channel. I didn't count my stitches and the border doesn't match up perfectly, but you don't even notice it. I loved how it turned out. You can see a close up of the border in the picture below.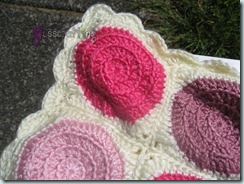 Done! Finally! I was going to sell it after I finished, but it took so long that I can't bear to sell so I will keep it 🙂
Yay! I really enjoyed how it all came together, even though it took me so long! I do recommend making your own since the finished product makes up for all the squares that need to be made.
Thanks for visiting my blog!
Take care,
Jessica