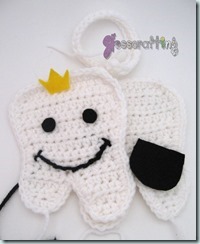 Hi everyone!
This pattern share will include some items I am making at the moment so the pictures will be work in progress pictures 🙂 One project is a bag that may be a little too big, but I can fit my projects into. Another project I just finished two days ago, and the last one is a project that is taking me a really long time to finish, but I am happy with how it is turning out.
This first pattern I want to share is a bag/purse pattern that I found at Make It Coats' website. This rose bag is really simple, but looks great. I am using a 3.75 mm crochet hook and Caron Simply soft yarn so the bag is going to be bigger than the pattern specifies. I am using different colours instead of just a solid "fabric". The pictures will just have the base dark green, but it will change to a lighter green, then beige 🙂
Here are my early progress:
I am not sure if the pattern is in UK terms or US terms, but I am reading it as if it is written in UK terms so the DC = a HDC in US terms. Next time I am going to make it smaller I think, but this will be a good size for carrying along my craft projects.
The next project that I finished a couple of days ago is a tooth fairy pillow that I have been wanting to make for a long time now. It's so cute! I found the pattern on Sarah's Repeat Crafter Me blog that I always go to!
Here are my results:
Next time I make one I'll have to make the little pocket a little bigger, but I guess if you are putting coins into it, it will be ok.
The final pattern I want to share is another pattern I found on Sarah's blog 🙂 I have made lots of perler bead character pictures, but I never thought of using the patterns for crochet. Sarah used the bobble stitch in place of a perler bead and the results are so cool! She has really great instructions on making your own bobble stitch pixel blanket. You can find her pattern for it here. I searched the website she suggested using and decided to make a pikachu blanket. It has 50 rows, and it's taking me a while, but I will finish soon!
Here are some pictures of my progress:
I think really like how the back of the blanket looks like the front, but flatter. I really want to finish it soon and I think I will since most of the colour changes have been done now…maybe this weekend. If you want to make a blanket with the same pattern here is the one I used. Good luck!
These are some of the current projects that I am working on and one that I have finished. Enjoy!
Thanks for visiting my blog!
Take care,
Jessica