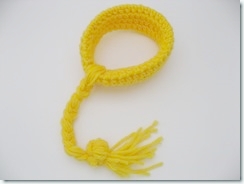 Hi Everyone!
Here again to share some patterns I have been working on 🙂
My friend recently got a Shiba Inu so I wanted to make a dog toy for him. I found an easy pattern on Maz's blog Bea Crafter. I followed the shape from her pattern, but changed used a HDC instead of a SC. It came out looking pretty much the same and I think he will enjoy playing with it for a little while.
Here are my results:
I really recommend trying out this pattern since it's easy and quick. You will have lots to give away to your dog lover friends or for your own dog!
The second pattern I wanted to share is a Christmas themed baby hat. I know Christmas is miles away, but you can never be too early for an elf hat! 🙂 I found the pattern on Amber's The Flighty Crafter blog. I love making baby items because they finish so quickly and turn out so cute!
Here are my results: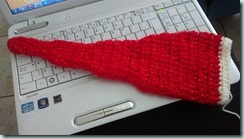 I still have to attach the pom pom at the top, but I really like how it turned out.
The last pattern I want to share in this post is going to be the other half of the Christmas baby outfit. I wanted to use up my Lion Brand Christmas yarn so I used the homespun to start a diaper cover. I haven't gotten that far, but I like how it is turning out. I found the pattern on Casey's The Bradens blog. Her finished diaper looks so cute!
Here are my results so far: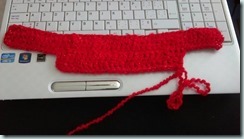 I am going to add a border with some white yarn to make it more festive.
Those are the patterns for this pattern share post. Try them out!
Thank you for visiting my blog! 🙂
Cheers,
Jessica